The Alternative to Ordinary…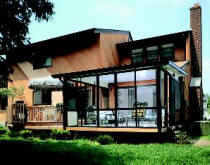 Add beautiful space simply and easily. With high-performance MC2 Wonderglasstm and an energy-efficient, insulated roof system, you'll be relaxing in year-round comfort sooner than you ever imagined. Pre-finished exteriors and interiors eliminate the mess, time and expense of ordinary construction.
Cost-Effective Curve…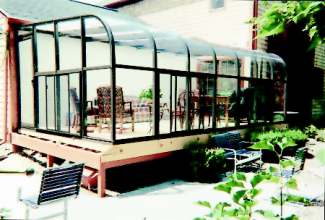 The Curved Eave style has been a Four Seasons favorite for almost three decades. With a high-performance MC2 Wonderglasstm roof providing views of the sun and stars, you'll be closer to nature than you ever thought possible, all from the climate-controlled comfort of indoors.
Brining in the dramatic natural light of the sun and romantic aura of the stars will light up your life and your whole home with its space, comfort and charm. The Series 230 Curved Eave Sun and Stars Room is designed to fit the toughest conditions. With the same features as the sun and shade Rooms, you will enjoy cooling breezes in moderate weather and superior energy efficiency when Mother Nature is at her worst. All this makes the Series 230 Curved Eave Sun and Stars Room one of our most popular Easy Living rooms.
Economic Elegance…
Recreating classical architectural designs with maintenance-free and energy efficient aluminum structures, Four Seasons offers masterpieces of design in its English-Style Conservatories. Slim profiles available only with Four Seasons high strength aluminum give these conservatories an unsurpassed elegance.