The Alternative to Ordinary…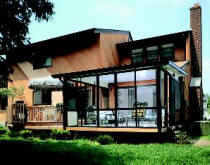 Add beautiful space simply and easily. With high-performance MC2 Wonderglasstm and an energy-efficient, insulated roof system, you'll be relaxing in year-round comfort sooner than you ever imagined. Pre-finished exteriors and interiors eliminate the mess, time and expense of ordinary construction.
The conventional look of this room complements any architectural home style, but the view from the inside is anything but conventional… it's extraordinary! You'll revel in panoramic views of your landscape in all Four Seasons. Enjoy countless hours creating lasting memories with family and friends in this beautiful, energy-efficient room. Delight in the knowledge that you made a wise investment in your home and reclaim your outdoor living space as year-round Four Season living space!
[nggallery id=1]
Comfortable Cathedral Ceiling…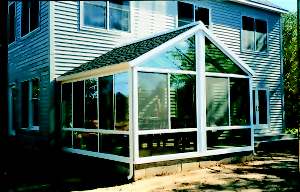 Create breathtaking space without breaking the budget! Four Seasons' Cathedral Rooms offer the soaring space of a cathedral ceiling with the same energy-efficient features as the Straight Eave Series 230 Sun and Shade Rooms. Sure to become the most lived-in room of your home, your Series 230 Cathedral Room is your retreat from the everyday and a sound investment for your future.
An all MC2 Wonderglasstm front peaked wall lets in more light and greater views while creating a more spacious feel with expanded sightlines to the landscape beyond. Vaulted ceilings in the Series 230 Cathedral Room deliver an open and airy sensation far beyond the actual space it occupies. This is a room that offers an unbroken panorama to your world while keeping you safe and sound inside. You'll feel like a king in your castle when you enter your lofty new Four Seasons' Series 230 Cathedral Room.
[nggallery id=2]
Features: Insulated tempered glass. MC2 Wonderglass. Doors and windows have heavy duty security locks, thermal breaks and dual interlocks to prevent air infiltration. WeatherLock II Roof panels with insulation values up to R-20.
Design options: Straight Eave and Cathedral Designs. Framing in Bronze, White and Sandtone. Wall panels of Centrex, Aluminum and Stucco. Your choice of Sliding, Quad, Swing and French Doors. Windows are available in 3, 4, 5 and 6 foot widths.