Cost-Effective Curve…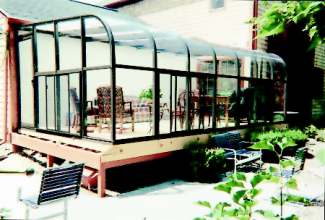 The Curved Eave style has been a Four Seasons favorite for almost three decades. With a high-performance MC2 Wonderglasstm roof providing views of the sun and stars, you'll be closer to nature than you ever thought possible, all from the climate-controlled comfort of indoors.
Brining in the dramatic natural light of the sun and romantic aura of the stars will light up your life and your whole home with its space, comfort and charm. The Series 230 Curved Eave Sun and Stars Room is designed to fit the toughest conditions. With the same features as the sun and shade Rooms, you will enjoy cooling breezes in moderate weather and superior energy efficiency when Mother Nature is at her worst. All this makes the Series 230 Curved Eave Sun and Stars Room one of our most popular Easy Living rooms.
[nggallery id=4]
Affordable Adjustability…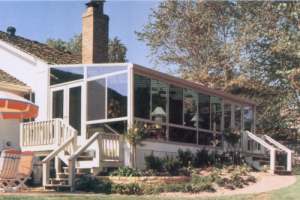 Bring the Sun and Stars into your life with the most flexible Four Seasons room available! An all-glass roof of exclusive high performance insulated MC2 Wonderglasstm brings dramatic natural light and tremendous views deep into the heart of your home.
With this Series 230 Straight Eave or Cathedral Sun and Stars Room, you'll treasure every tranquil moment spent gazing at a brilliant canopy of stars or relaxing on a sun-drenched afternoon. You'll be amazed by how the cares of the day slip away when you feel a part of the ever-changing splendor of the seasons in all their magnificence. This sunroom fits most architectural home styles and most any application. If you think your home is too unique for a sunroom addition, you haven't seen this Sun and Stars Room!
[nggallery id=5]
Features: MC2 Wonderglasstm. Thermally broken Aluminum framing.
Design Options: Framing in Bronze, White and Sandtone. Wall panels of Centrex, Aluminum and Stucco. Your choice of Sliding, Quad, Swing and French Doors. Windows are available in 3, 4, 5 and 6 foot widths.